CCA
DAY/TIME
TEACHER I/C
VENUE
Athletics
Monday
(During Competition) 3.30 pm - 5.30 pm
Wednesday
2.00 pm - 4.00 pm
Friday
7.30 am - 9.30 am
Mr Didy Romanee (i/c)
Mr Welly Hardono (2 i/c)
Mdm Waheeda
Mrs Serene Tan
Miss Ong Shi Han
Mdm Boon Lay Leng
Mr Mohamed Fazil
Parade Square / Running Track
Basketball
Monday and Thursday
3.30 pm - 5.30 pm
Mrs Adeline Lim (i/c)
Mdm Lim Jia Wei (2 i/c)
Mr Timothy Loe
Mr Daniel Li
Miss Toh Pei Min
Mdm Shanmugathai
Miss Dora Yeo Shi Hui
Indoor Sports Hall (ISH)
Hockey
Monday and Thursday
3.45 pm - 5.30 pm
Mr Aerfi Abdullah (i/c)
Mdm Chris Goh (2 i/c)
Mdm Nasuha Hanafi
Mr Suresh Kumar
Mr Vikneswaran 
Mr Kalai Selvan
Miss Lim Yu An
Field / Basketball Court
Softball
Tuesday
3.30 pm - 5.30 pm
Friday
2.30 pm - 4.30 pm
Miss Dulcie Lim (i/c)
Miss Wu Mei Qi (2 i/c)
Mdm Yeo Ay Leng
Mrs Karen Tan
Mrs Lim Huey San
Mdm Joyce Tan
Mdm Chin Irnanie 
Mr Ngo Yi Chye
Field / Basketball Court
Synopsis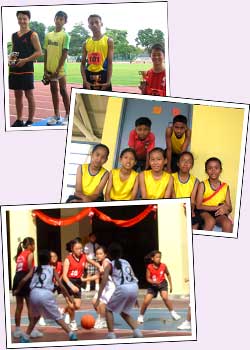 Track and Field
Calling all P3 to P6 pupils who can run Long Distance, Short Distance, do High or Long Jump or Shot Put. Track and Field is the CCA for you. With weekly training, endurance, agility and stamina will be built and you get to keep yourself fit and healthy. If you are very good, you get to represent the school in the Annual National Competition.
Basketball (Girls)
The Seng Kang Primary School Basketball CCA is one of our school's sports niche CCA. Selected players with potential and good performance will get to represent the school in the National Inter-Primary School Basketball Championships held annually. Basketball has also helped talented pupils in their Direct School Admission into secondary schools of their choice.
Hockey (Boys/Girls)~(Membership by school selection only)
Under the guidance of the dedicated teachers and the passionate coach. Besides imparting and equipping the necessary hockey skills to help them become confident players, we also look into instilling important values such as resilience, integrity, respect, sportsmanship and fair play in our pupils. Mission: To inculcate positive living values and help each child to grow and develop his individual potential in hockey.
Softball CCA
Softball is a game that challenges not only the techniques of the players, but also on their ability to make effective decisions in split seconds. It builds both the physical and mental strength of the players. In SKPS Softball, the teachers and coaches focuses on character building as well. We believe that beyond the wins and losses, we want to build a team of young athletes who are upright in character, possess positive attitudes and exhibit good sportsmanship.